John Ringo looked more like a tragedian or an actor than a gunfighter. His fine manners and gentle decorum set him apart from the rough element. He had a dig nified air about him, almost an aloofness of character, and his language carried the soft southern accent.

For John did come from people who originally hailed from Kentucky, although he was born in Texas. His family was not proud of the Younger cousins who had been train and bank robbers under Jesse James, and it was seldom they mentioned the background of Grandpapa, Colonel Coleman Younger, who lived in San Jose, California, with john's three pretty sisters.

John wandered from home while still a young man and learned that he had a definite talent for gunsling ing. He told his family he thought he'd go into the cattle business out west somewhere. He stopped off at Dodge City, and became known as a good-looking gun slinger, six feet two, and just as dangerous as he was big. An utterly fearless man to keep an eye on.

He drank heavily, and quoted long passages from the best in literature. His coat pockets often sagged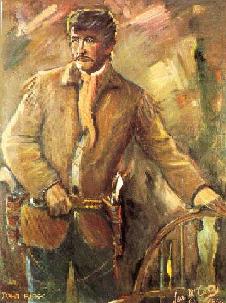 with the weight of a book. He would recite poetry if liquored up properly, and there wasn't a man in Dodge who had the courage to laugh at him, to take the risk of hav ing him unlimber matched ivory-handled Colts which always spelled death.
Ringo finally went on to Tombstone where he made the acquaintance of the Earp brothers and renewed his hatred for Doc Holliday, whom he had known in Dodge. He joined up with the Clanton faction of cattle rustlers and stagecoach robbers, and, to show his loy alty, picked a quarrel with Wyatt and offered him a handkerchief duel, which did not come off because Mayor Thomas, even after Doc got mixed up in it, stopped it. But Ringo caught the Earps and Doc when they tried to cross the San Pedro Bridge to hunt down killer Curly Bill Brocius. Ringo stood there and rein forced his clipped speech with a shotgun, telling them to come on if they wanted to feel the bite of it. The Earps and Holliday were forced to turn and eat Jim Crow, as they knew John was no bluff.
Billy Claibourne, one of the Clanton faction, and Ringo went on a two-week drinking bout with Buck skin Frank Leslie, and they saddle-sang and whooped it up all over southern Arizona, stopping at every farm house for a few more rounds. They finally split up, and the next time Ringo was seen he was lying beneath an oak tree in Sulphur Springs Valley, near Turkey Creek Canyon, with one side of his head blown off. His coat had been torn from him, and strips of cloth from his shirt bound his feet and hands. His horse was found far up the canyon, and his boots were tied across the saddle.
Wyatt Earp and Doc Holliday protested that they had nothing whatever to do with it, but admitted they would have liked to have gunned him down. Then when Claibourne pointed a long bony finger at Buck skin Frank Leslie, this killer whipped out a .45 Colt and cut Claibourne to pieces. The matter was finally solved when John O'Rourke, or "Johnny-Behind-the Deuce", admitted to the killing. He found Ringo drunk and passed out under the oak tree and shot him with ease. Ringo was 38 years of age, 1882. O'Rourke could never have matched up to him while sober.