Old Man Clanton, or N. H. Clanton, came out of the French and Indian War country about 1830 during the flintlock period to arrive in Laredo, Texas. From there travelled westward mavericking as he came, selling off the stock in Fort Bowie. He went on to California and the Gold Rush, where he spent some time before being run out by the Vigilantes.

Some fool of a woman married him and gave him four sons who had already learned to snarl and bite: Isaac, Ike, Phin and Bill - all chawing tobacco and spitting on the floor, cussing like mule-skinners, dis regarding the Ten Commandments, and the like. Their teacher - Old Man Clanton. He also gave them lessons in gunslinging so that each one of them was a proficient killer.

Old Man Clanton was said to be able to out-Apache the Apaches. He took up a ranch near Fort Thomas. When he didn't like somebody on his property, he simply pointed him out, and one of the boys would provoke an argument and shoot the man down in "self defense".

Ed Schieffelin's strike had skyrocketed Tombstone to fame, and Old Man Clanton moved in. He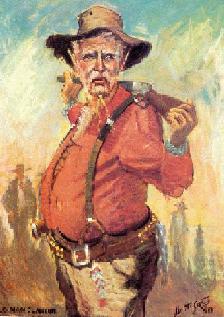 became so popular stringing into town with his four sons and others who buzzed around him, that the newspaper, The Tombstone Nugget, referred to them as "the cow boy party" of Republicans.
Clanton's rise to political power came through his favors to Sheriff Johnny Behan, such as certain moneys poured into Behan's lap for giving the protection nec essary to operate without any arrests, especially when Wells-Fargo was knocked over, or cattle rustling too close to town.
Old Man Clanton had quite an organization. He now had Curly Bill, John Ringo, Tom and Frank McLowery, Joe Hill, Pony Deal, Jim Hughes, Frank Stillwell and many other lieutenants who had under them some four hundred frontier outcasts who carried out the evil pur suits which dominated human rights all over eastern and southern Arizona.
Headquarters were maintained at various waterholes reaching down as far as New Mexico, into Sulphur Springs Valley and beyond, and there was not a cow man in the Territory who dared raise his voice against the wrath and terror of Old Man Clanton, who would deliberately set the running iron burning right under the owner's nose, or drive off stock within sight of the ranch house. Being proficient gunmen, all of Clanton's boys loved to unlimber and show off their special skill.
The Clanton boys collected the taxes, too, and made what assessments they saw fit to levy. Curly Bill Brocius often rode along and was known to be a fast and accu rate executioner whenever there was a quarrel with the assessor and it became necessary to cut the rancher down. Old Man Clanton and Sheriff Behan always treated the thing as a big joke.
This scandal became so widely publicized that the Congress of the United States brought it under discus sion and open debate in their chambers, and President Garfield was advised to get rid of Fremont as Governor of Arizona Territory. Some talk was abroad to make Wyatt Earp, a lawman of some repute, the U.S. Marshal of the Territory, but this was never done.
Warnings and rumblings from Washington meant nothing to the Clantons. That was a distant place as far away as the moon. For instance, Curly Bill, John Ringo, Old Man Clanton and the boys rode out to Skeleton Canyon and ambushed a mule-train carrying seventy five thousand dollars in silver bullion and slaughtered 19 muleteers. Old Man Clanton pocketed most of the loot, but enough was given to the boys for a hell-go orgy in Galeyville and Charleston.
The Old Man with six of his boys started his stolen cattle drive into Tombstone. While passing through Guadalupe Canyon, however, they were ambushed by the Mexican vaqueros and relatives of the bullion train massacre. Old Man Clanton and his men were shot dead out of their saddles, with only Harry Earn shaw escaping.
With the famed OK Corral shoot-out in 1882, the Clanton gang was wiped out, but Old Man Clanton left the sear of his running iron on the history of the Old West for all time.