The Most Famous Of All Old West Gunfights
"This painting of the famous OK Corral Gunfight at Tomb stone, Arizona, 1881, has been the basis for arguments for more than a half century. It's about time somebody stopped it or tried to. Wyatt Earp told it to me on several occasions and in a few words, and the artist has interpreted my remarks as I gave them to him.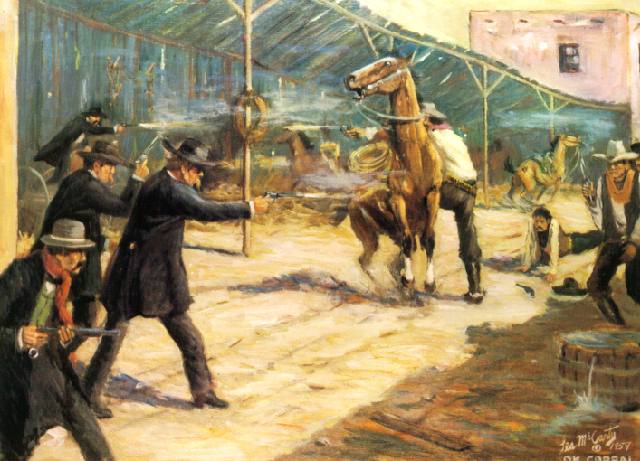 "The Earps did not enter from Allen Street (distant), but from the rear or Fremont Street, with Doc Holliday carrying a sawed-off shotgun, then Wyatt, Morgan and Virgil (town marshal) Wyatt Earp's brothers. The man shooting and trying to mount is Tom McLowery (later killed), the man on the ground is his brother Frank McLowery shot and killed by Wyatt, and the figure on the far right is Billy Clanton (shot gunned by Doc and also pistolled by this dentist killer), and the fellow behind him is his cowardly brother Ike Clanton, who throws himself at Wyatt's feet begging for mercy and then ran for Fry's studio (left) to hide with Sheriff Johnny Behan and coward Billy Claiborne who never fired a single shot.
"The dead from this fight: Billy Clanton, Tom and Frank McLowery. The wounded: Morgan and Virgil Earp. The lucky: my old friend Wyatt Earp who got it in the coattail along with Doc. (Doc did not get hit.)
"The fight or shootout was the result of a feud between the Clanton outlaws and the Earp faction of lawmen which had been festering for some time. Wyatt sent a little half-breed boy into town to watch the Clantons who bellied the bars and when he came back telling Wyatt what they thought of the local law men, that set off the battle. The Earps and Doc moved into the Corral first and lay in wait of the Clantons and rose up and let 'em have it when they came in from Allen Street and started to mount up near the Assay Office wall.
"The battle only lasted thirty seconds according to my friend Wyatt Earp. That's all there is to it. I don't know how fellows make movies and write books about it - one painting is enough." -A. M. KING Wyatt Earp Deputy 1900S